LARGE SIZE CAPACITIVE TOUCH SCREEN (DPT)
GUNZE offers large size standard PCAP at 32 inch and 55 inch utilizing our Direct Printing Technology (DPT). GUNZE's proprietary printing technique and high transparent metal mesh film gives a unique ability to manufacture larger size PCAP touchscreens at low cost to our customers. Please see below for additional information or contact GUNZE.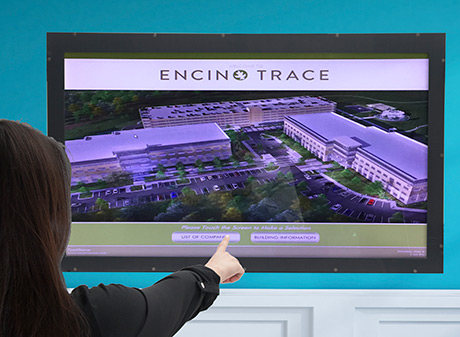 DPT FINE LINE PRINTING TECHNOLOGY
DPT film is low resistance and high transparent conductive film using GUNZE's original direct printing technology, which is a pattern printing process using fine silver particles on plastic film.

The panel is not affected by illumination, sunlight and dust, and can project through a cover lens up to 10mm in thickness.
The 10 points multi-touch offers high response performance, maximum 240Hz.
A fully flat surface can be designed.
| | | |
| --- | --- | --- |
| Specification | 55 inch | 32 inch |
| External dimension | 1282x769mm | 752x447mm |
| Sensing area | 1210x680mm | 698x392mm |
| Touch method | By finger | By finger |
| Glass thickness | 5mm (max. 10mm) | 3mm |
| Multi-touch | 10 points | 10 points |
| Response speed | 5.0ms (200Hz) | 10.0ms (100Hz) |
| Resolution | <2mm | <2mm |
| Report Rate | >80%T | >80%T |
| Support OS | Windows | Windows – Mac – Linux |
| Interface | USB | USB, RS232 |
| PCBA size | 80x60mm | 153x55mm |